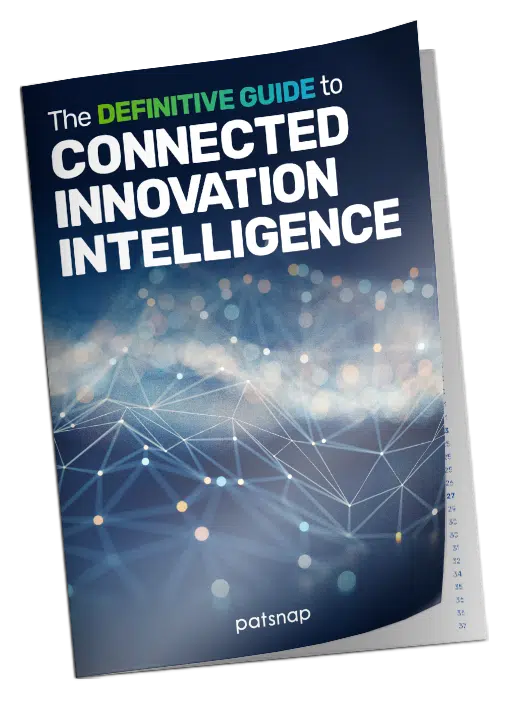 Der DEFINITIVE LEITFADEN für




Connected Innovation Intelligence
Erfahren Sie, wie Sie ein unbegrenztes Innovationspotenzial freisetzen können
95 % neuer Innovationen sind innerhalb der ersten 12 Monate nicht erfolgreich. Gehören Sie zu den 5 %, die Erfolg haben.
Füllen Sie das Formular aus und wir senden Ihnen eine Kopie per E-Mail!
Erfahren Sie, wie Sie mit Connected Innovation Intelligence (CII) Ihr unbegrenztes Innovationspotenzial freisetzen können.
CII ist eine KI-gestützte Technologie, die Millionen von unterschiedlichen Datenpunkten analysiert, sie nach Branche und Relevanz segmentiert und die gewonnenen Erkenntnisse zu einem aussagekräftigen Bericht zusammenfasst.
Das Ergebnis?
Eine ganzheitliche Rundumsicht des Marktes, mit der Sie Risiken leicht erkennen, Chancen identifizieren und das Innovationstempo erhöhen können.
Wir haben The Definitive Guide to Connected Innovation Intelligence zusammengestellt, um Ihnen ein umfassendes Verständnis dafür zu vermitteln, wie CII Ihrem Unternehmen helfen kann, bessere Innovationen zu entwickeln.
Lesen Sie unseren Amazon-Bestseller Nr. 1 und erfahren Sie, wie Sie es schaffen:
Ideen zu identifizieren und zu validieren

Die Zeit zur Markteinführung zu verkürzen

Kommerziell lebensfähige Produkte und Dienstleistungen auf dem Markt einzuführen
... all das, während Sie Zeit UND Geld sparen!
Mit der Übermittlung Ihrer Daten erklären Sie sich damit einverstanden, dass PatSnap Ihre persönlichen Daten erfasst, verarbeitet und speichert, um die von Ihnen angeforderten Informationen und/oder Dienstleistungen bereitzustellen. Die Erfassung, Verarbeitung und Speicherung personenbezogener Daten durch PatSnap erfolgt in Übereinstimmung mit unserer Datenschutzrichtlinie.
Innovationen sind keine Grenzen gesetzt, warum sollten sie Grenzen haben?
Kommerziell lebensfähige Produkte und Dienstleistungen auf dem Markt einzuführen:
Ideen zu identifizieren und zu validieren:
Die Zeit zur Markteinführung zu verkürzen:
Der Sinn und Zweck von Innovation besteht darin, neue technologische Möglichkeiten zu schaffen. Aber wie können sich Innovationsträger bei so großem Hintergrundlärm und Wettbewerb mit ihren Ideen abheben und erfolgreich werden?
Meistens können sie das nicht ... jedenfalls nicht aus eigener Kraft.
Stattdessen nutzen moderne Innovationsfirmen die KI-gestützte Suchplattform von CII (die in der Lage ist, unzählige unterschiedliche Daten zu durchforsten und sinnvoll miteinander zu verknüpfen), um auf der Grundlage von fundierter Informationen zu entscheiden, welche Ideen sie weiterverfolgen sollten und welche Ideen bereits ausgeschöpft oder in Besitz sind.
Störungen sind allgegenwärtig, und um langfristig erfolgreich und überlebensfähig zu sein, ist es wichtig, mit der sich ständig verändernden Innovationsumgebung auf dem neuesten Stand zu bleiben. Die Technologie ist jedoch schnelllebig und unabhängig davon, wie intensiv der Einzelne täglich oder wöchentlich Recherche betreibt - Lücken entstehen zwangsläufig immer wieder.
Glücklicherweise können Innovationsträger mit CII Risiken rasch identifizieren, indem sie Konkurrenten, neue Wettbewerber und Start-ups verfolgen, dabei gleichzeitig rechtliche Hindernisse für Konkurrenten schaffen und verhindern, (dass) die(se) in denselben (oder einen angrenzenden) Technologiebereich eintreten
Es gibt nichts Schlimmeres, als ein neues Produkt oder eine neue Dienstleistung auf den Markt zu bringen und dann zu scheitern ... vor allem, nachdem viel Zeit und Geld investiert wurde, um es zu verwirklichen.
Mit CII können Sie Ihre Konzepte testen und vor der Vermarktung den aktuellen Bedarf des Marktes analysieren. Das Ergebnis ist, dass Sie bereits bei der Markteinführung über eine fundierte Strategie und ein tiefes Verständnis der Bedürfnisse und Wünsche der Verbraucher verfügen.