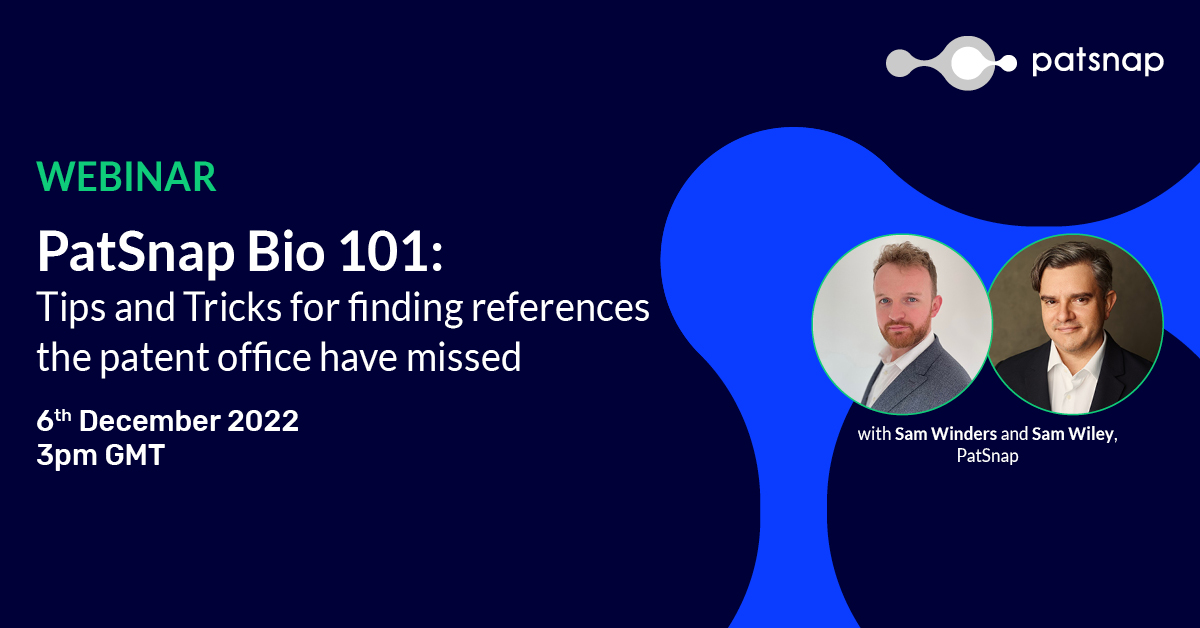 PatSnap Bio 101:

Tips and Tricks for finding references the patent office have missed





Curious about how to find those elusive patent references? If you answered yes, join us on December 6th, for the final part of our PatSnap Bio 101 webinar series, Tips and Tricks for finding references the patent office have missed, on December 6th at 3pm GMT.





PatSnap Bio is the world's largest biological sequence database and integrates deeply with our patent platform helping accelerate patentability and FTO and explore therapeutic targets.


During this one-hour discussion, you'll learn how to: Identify biologics against therapeutic targets Navigate associated patent and clinical trial landscapes Determine where innovation opportunities exist We'll conclude the session with a Q&A, so come prepared with your questions.

Reserve your spot today — spaces are limited!
PatSnap Bio 101 is a three part series, with the final part taking place on December 6th, at 3pm GMT.

Sign up for part three by filling in the form below.

If you missed part one, you can watch it here If you have missed part two you can watch it here
Sam Wiley is a Silicon Valley IP veteran and IAM 300 2022 strategist with an unwavering conviction that intellectual assets are vital to advancing the arts and sciences. His passion is applying technology and data to empower innovators and business leaders. He advises clients ranging from Fortune 100 multinational companies to boutique law firms on implementing technologies that streamline IP operations and provide critical decision support on innovation strategy.
He is currently the Head of Thought Leadership and Customer Advocacy at PatSnap, a global connected innovation intelligence firm that specializes in turning innovation data into actionable intelligence. As an evangelist for IP technology and analytics, he uses his platform at PatSnap to share cutting-edge best practices by shining a light on industry thought leaders, particularly underrepresented voices in IP and innovation.
Sam Winders is lead representative for PatSnap Life Sciences Europe and one of the company's longest serving employees. When not helping explain the value of PatSnap's products to clients and prospective clients, Sam works closely with the product and engineering teams to help continue the software platform's rapid rate of innovation.
Copyright © 2022. All rights reserved.