Chemical
Unlock R&D opportunities by identifying promising lead compounds faster, minimizing legal risks, and increasing the chances of successfully launching new compositions to market.
Powerful analysis in the hands of
every researcher
Innovation in chemistry is required in all sectors of industry, whether it be life sciences, material sciences, or many other branches of science. These innovations are the foundation of our modern society and lead the way for businesses to grow and develop, but while more money is spent on R&D every year, the returns have decreased. With growing pressure to yield more effective results from R&D, teams need an easier way to visualize the structural similarity of chemicals compared to one another, with their commercial importance emphasized by patents and alternative data sources, all in one place.
Connecting chemistry information and innovation data in one
intuitive platform
With the application of machine learning and artificial intelligence, Chemical by PatSnap brings together patent data plus vital and relevant scientific information into one single and easily searchable interface. It augments your chemical structure searches with a wealth of additional data—including legal and litigation data, licensing and grant information, plus company data—and combines this with regulatory and clinical trial information so you can validate your chemical development projects and improve the ROI of your R&D.
Unrivalled data comprehensiveness
Patent data from over 116 jurisdictions, regulatory data from 3 jurisdictions, global clinical trial information and in-depth chemical properties to provide information for all the stages of development of a chemical related product.
Efficient, flexible searching
Various routes to conduct your searches efficiently by drawing a chemical identifier, structure, or via uploading an image. With our unique multi-structure search, you can search for chemicals in a formulation, and with our property search you can find structures that fit the properties required.
Robust refinement
Connects information for over 170 million chemicals to provide bespoke refinements such as searching by keywords in a patent or by regulatory status and other non-patent refinements to give added functionality and control to your results.
Analyze, visualize and report
Our unique landscape visualization tool, Chemscape, gives you a real sense of potential threats, business opportunities, crowded areas based on your structure and similar structures around it.
Configure workflows
Workflows can be configured to ensure a standard process is followed for every project, giving consistent results.
PatSnap statistics
0

Regulatory approval from the US, China and Europe

0

Comprehensive patent data from over 116 jurisdictions

0

m

Confidently search over 170 million chemical structures
Deeper insights to make better
R&D decisions
By enabling chemical and patent searches across over 114 million structures and from over 116 patent jurisdictions, Chemical revolutionizes chemical and intellectual property research.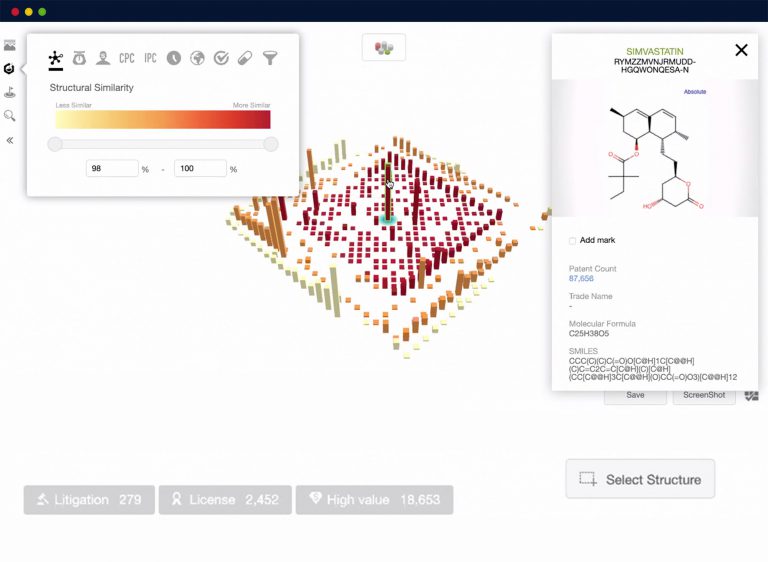 Explore promising compounds and
their applications
Chemical enables you to search for compounds by name variants and chemical structures and then use powerful tools to refine searches quickly. Visually explore related structures and the patents associated with them using our 3D landscaping tool, Chemscape. Cross-reference structures and global patent findings with regulatory bodies including the FDA, EMA, CFDA, and clinical trial registries to validate interesting opportunities faster than ever before.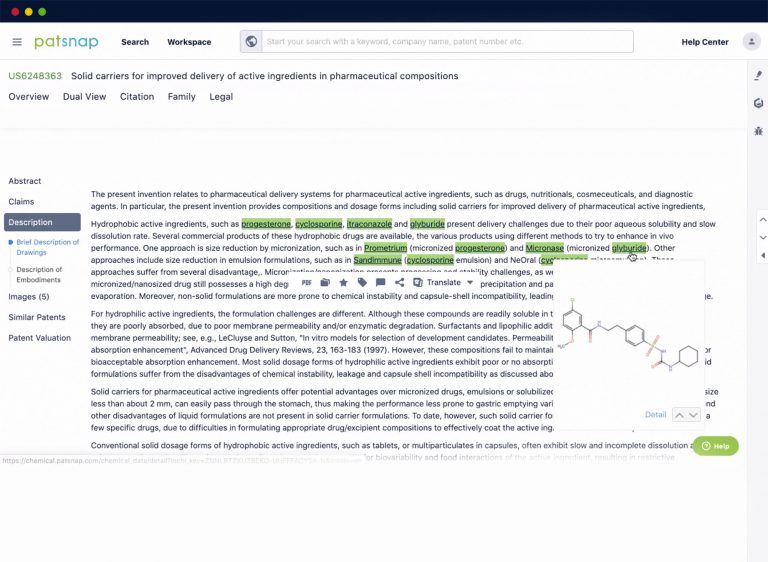 Understand risks and opportunities in the
patent environment
Navigate through the patent environment to find whitespace opportunities around related structures using our interactive visual dashboards. Cross-reference structures with our global patent database to understand risks or licensing and acquisition opportunities.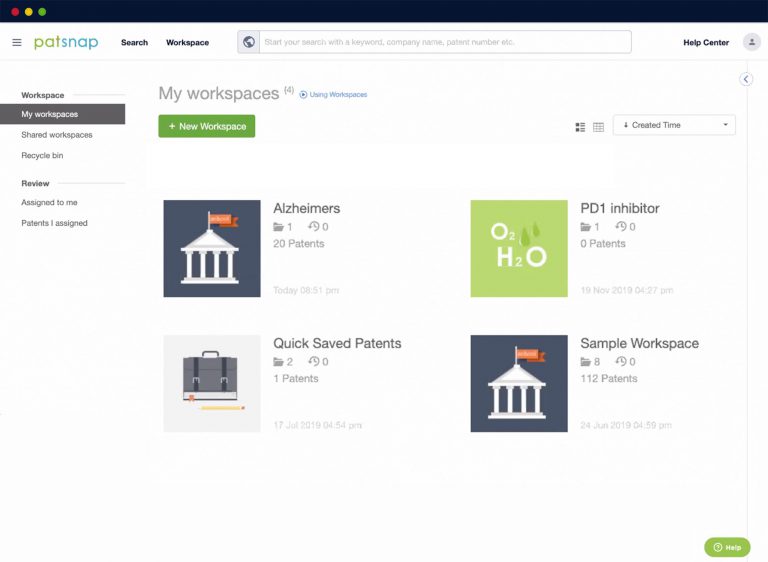 Enable collaboration between
IP and R&D
Using Chemical by PatSnap, R&D teams can easily search for related patents concepts to share with legal counsel in order to accelerate initial freedom to operate searches. IP teams can access sophisticated tools for detailed prior art searching, citation analysis, keyword highlighting, and interpretation of file wrappers. Shared Workspaces create a common collaboration space where R&D and IP can save and organize relevant patents for review and annotation.
Brands using PatSnap