March 2023 Global Innovative Drug Report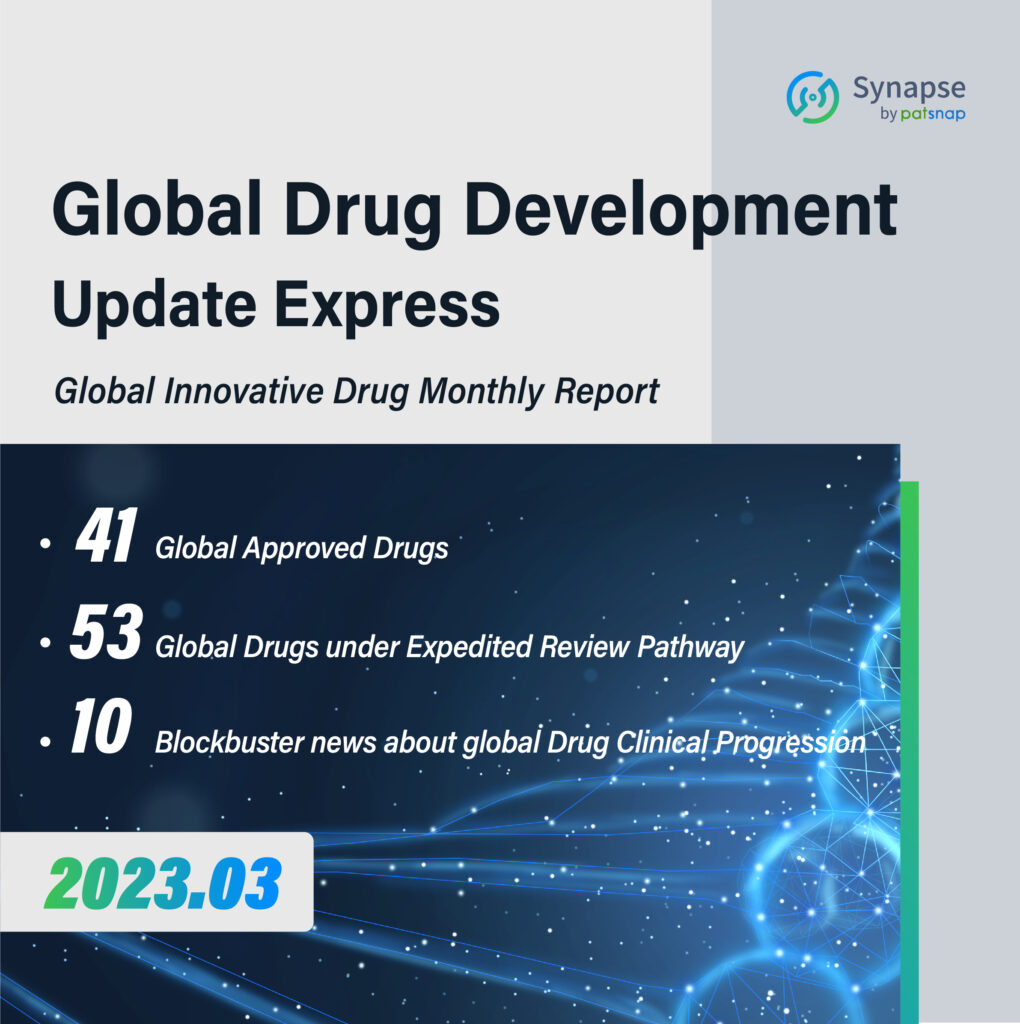 The recently published Global Innovative Drug Report, based on data from the PatSnap Synapse database, consists of three parts:
Global Approved Drugs
Global Drugs under Expedited Review Pathway
Global Drug Clinical Progression
The report offers a comprehensive overview of the latest advancements in the pharmaceutical industry.
Global Innovative Drug Report Overview
1.) March 2023 Global Drug Approvals:
During March of 2023, a total of 41 drugs were approved on a global scale, encompassing a diverse range of drug types. These include 21 Small Molecule drugs, 4 Vaccines, 3 Antibody drugs, 3 Synthetic Peptides, 2 Enzymes, 2 Biosimilars, 1 Antibody Drug Conjugate (ADC), 1 Bispecific Antibody, 1 Fusion Protein, 1 Immunoglobulin, 1 Cell Therapy, and 1 Fc Fragment.
2.) March 2023 Global Drugs Subject to Expedited Review:
During March 2023, the global pharmaceutical industry had a total of 53 drugs undergoing expedited review pathway, comprising various types of designations. Notably, 32 drugs had received Orphan Drug Designation, while 6 were designated as Fast Track, and 4 were granted Breakthrough Therapy Designation. Additionally, 4 drugs obtained Conditional Marketing Approval, 3 received Emergency Use Authorization, 1 underwent Priority Review, 1 was granted PRIME designation, 1 received Rare Pediatric Disease designation, and 1 achieved Accelerated Approval.
3.) March 2023 Global Clinical Progress of Drugs:
During March 2023, a total of 3352 news items related to global drug clinical progress were available for retrieval from the Synapse database. From this comprehensive collection, 10 noteworthy news items were handpicked, including Clinical Reviews and Approvals, Phase I, II, and III Results, as well as Marketing Authorization Applications. These 10 selected news items represent the most significant and influential developments in the pharmaceutical industry during the month of March 2023.
Gain Access to the Comprehensive Report for FREE – Download Now! If you aren't registered for Synapse (registration is required to download the report), click here to register for free.
PatSnap Synapse Database: An Overview and Key Features
Discover the innovative PatSnap Synapse database – an AI-powered platform that provides intuitive interfaces, curated content, and access to massive information sources. With integrated access to company data, diseases, targets, clinical studies, biological and chemical entities, our platform offers a powerful search and association experience. Sign up for free today and experience the benefits for yourself!
R&D Decision Makers
Our mission is to empower R&D decision makers with swift access to accurate and connected data, facilitating their understanding of emerging technology trends, competitive landscapes, and partnership opportunities. By providing comprehensive insights, our platform helps decision makers to navigate and steer the direction of innovation with confidence.
Business Development Professionals
We offer a comprehensive database that covers drug pipeline and investment history for over 320,000 life science organizations. This invaluable resource allows you to make informed decisions regarding potential partnerships or acquisition targets with confidence. Gain access to our extensive database and unlock the insights you need to drive your business forward.
Pharmaceutical Analyst
Our platform is designed to accelerate the research process for pharmaceutical analysts by leveraging a wealth of connected data, including drug approvals, clinical trials, patents, non-patent literature, and news. With Synapse, users gain a comprehensive 360-degree view of the competitive and technological landscape, empowering them to make informed decisions quickly and efficiently. Discover the power of Synapse and revolutionize your research today.
Copyright Statement: This report is the sole property of PatSnap and is protected under copyright laws. Any reproduction, excerpting, or other use of this report without explicit authorization from PatSnap is strictly prohibited. Authorized products must be used within the scope of authorization and must include a clear indication of the source. PatSnap reserves the right to investigate any violations of this statement and pursue legal action as necessary. For inquiries regarding authorization, please contact [email protected].