Life Sciences
Accelerate early stage innovation with best in class drug discovery and innovation intelligence to improve R&D productivity.
Connecting insights from genes, proteins, and sequences with IP data to assess
therapeutic novelty
According to recent figures from Deloitte, research and development (R&D) ROI on pharmaceutical innovation is at an all-time low, hitting 1.9% in 2018, down from 10.1% in 2010. To combat this, companies have a need for life sciences intelligence so they can make the better-informed decisions throughout the innovation lifecycle. This helps to identify the right compounds at the discovery stage and avoid cost of failure at the clinical and late stage of development. PatSnap Life Sciences intelligence connects disparate, early stage data sources and turns them into meaningful insights to improve R&D decision making.
Sequence searching unlocked
Combining millions of sequences from 140 million patents from all major jurisdictions, our life sciences intelligence platform, PatSnap Bio, makes it easy to search protein, DNA and RNA sequences within patents and quickly find the sequences which are most similar. Using machine learning and artificial intelligence, PatSnap Bio is the most comprehensive and efficient way to conduct patentability and freedom-to-operate searches, saving time and reducing the risk of litigation.
Comprehensive searching
Search for up to 200 sequences at once to increase speed of R&D.
Find sequences from over 100 global patent databases in

one click.
Insightful analysis
Rank sequence search results by alignment strength

and length.

Review and compare highlighted sequences within the patent documents.
Robust refinement
Filter sequence results by application area, owner, and legal status.
Save relevant patents and export sequences with a click.
Improved R&D productivity
Accelerate speed of freedom-to-operate and patentability searches

by 70%.

Complete global patent searches in 1/8th of the time.
PatSnap statistics
0

m

Sequences available

to search

0

m

Across millions

of patents

0

%

Increasing the speed

of FTO
Answering strategic questions in the
life sciences
PatSnap Bio is the most powerful platform to run patentability and freedom-to-operate searches, conducting scientific intelligence, saving time, and reducing litigation risk for biotech inventions.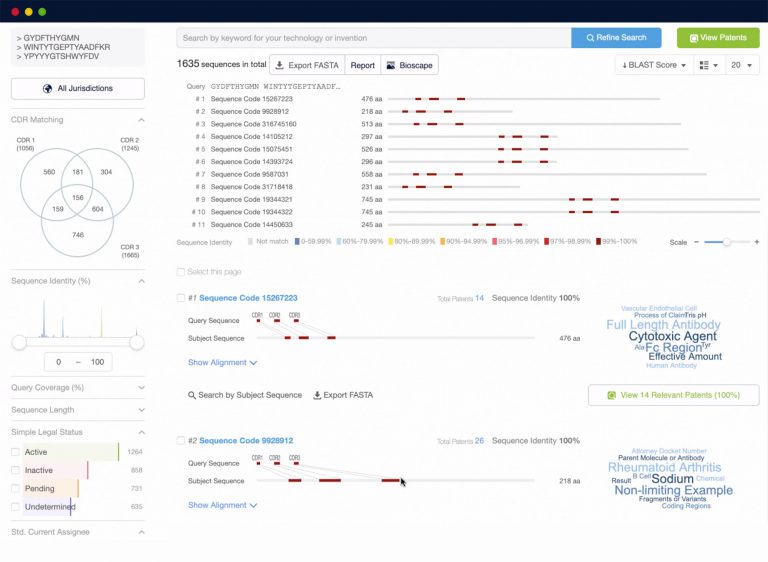 Identify freedom
to operate
Drastically reduce the time you spend searching while ensuring you find all the sequence-relevant prior art. Using our powerful CDR and Motif search algorithms, conduct a more powerful antibody sequence searching for a comprehensive FTO and patent litigation search. Identify your sequences within patents using our highlighter tool and set up automated email alerts so that you are always ahead of the game. Generate comprehensive reports, download FASTA files, and export sequence alignments so that you can present your findings easily.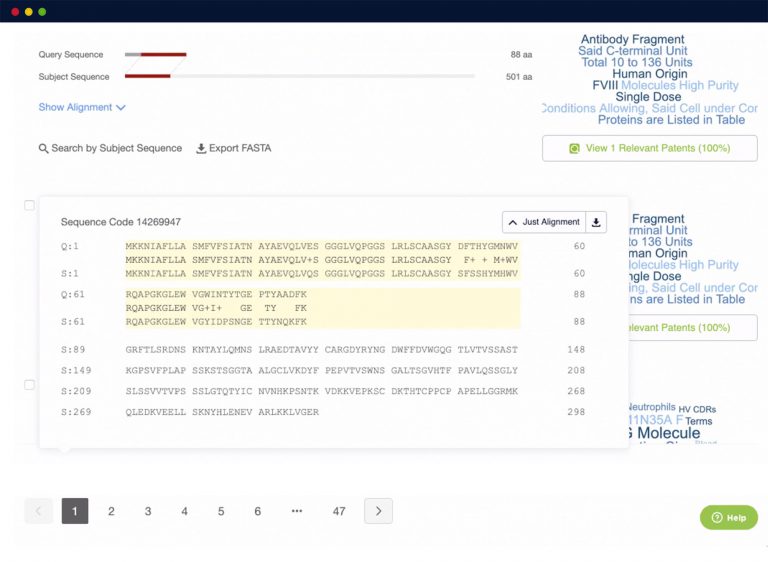 Track competitors, technologies
and targets
Using PatSnap Bio visualisation and landscape tools, track your competitors to see if they are working on similar sequences or moving into new areas. Visualize your results graphically and evaluate sequence space attributes such as key companies, target and technology applications. By seamlessly moving from sequences to relevant patents, you can easily conduct comprehensive patent landscape analysis.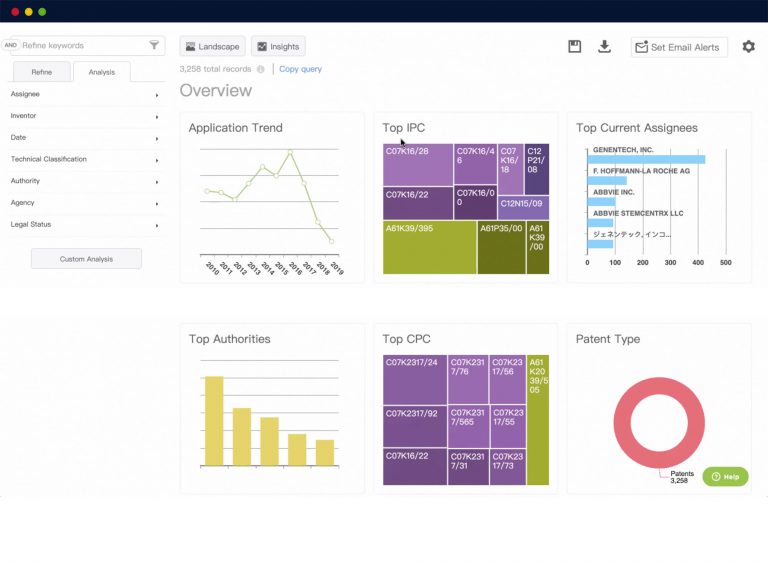 Innovate more confidently
Discover new applications for your sequence and identify who is innovating in the space. Using sequence highlighting feature, identify and compare sequences and innovate specific mutations/sequences producing a therapeutic effect. Identify new sequences in technology area of focus and source inspiration for your innovation pipeline using our powerful word clusters functionality.
Brands using PatSnap